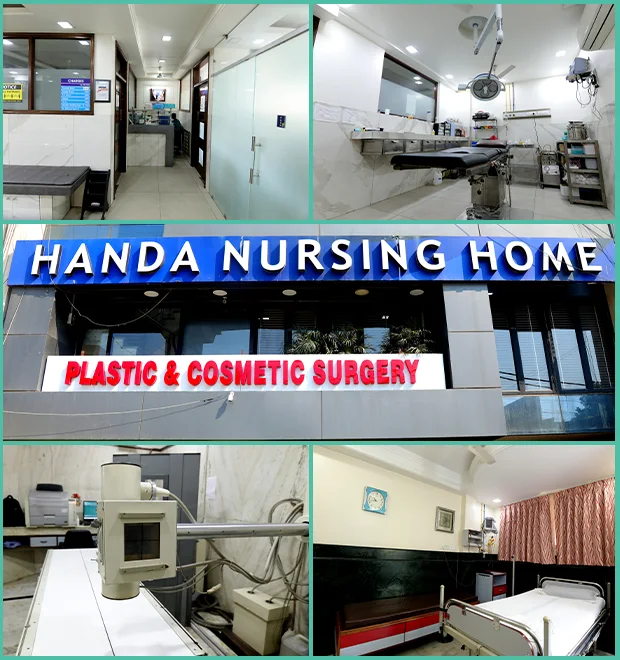 Handa Nursing Home was established at Raja Garden (West-Delhi) in 1984 by Dr Arun Kumar Handa and Dr Amarjeet Kaur Handa and has been providing excellent services for over 35 years. Currently we are a 50 bed hospital equipped with the latest facilities and provide advanced treatment in Urology, Laparoscopic Surgery, Gynaecology, Plastic and Reconstructive Surgery, Cardiology, Respiratory Diseases, Diabetes and Hypertension, Renal pathologies and Gastro-intestinal problems.
Equipped with the latest technology we offer advanced management options for expert treatment of urinary tract problems and have an experience of 15,000 urological procedures.
We are one of the first centres in Delhi to start Laparoscopic surgeries(since 1992) and have performed more than 20,000 laparoscopic procedures and with an overall surgical experience of over 60,000 surgical procedures and consistent patient satisfaction we are one of the most trusted surgical centres in New Delhi.
We have a state of the art I.C.U. with ventilators, BIPAP, central oxygen and suction, bed side monitors, besides a dedicated team of nurses, doctors and senior cardiologists and surgeons for intensive management of critically ill patients.
Trained at the best institutes of the country, our plastic surgery team offers the most up to date treatment options for aesthetic and reconstructive problems.
Our Services
Explore Our Service
Our Clients
Our Client Happy Say About Us
It has been a wonderful experience at Handa Nursing Home. Dr. Handa is an amazing doctor and a great human being. The staff was nice and very helpful. I will definitely recommend this place to others.
I had come to get my gall bladder stone removed by laparoscopy. My experience was very nice and comfortable. The process was smooth and I was discharged the next day. It is a great place and services are offered at very reasonable prices.
I got my upper eyelid surgery done. After two failed attempts, I was a bit scared for a third time. But both Dr.Arjun and Dr.Shruti made me feel comfortable. I am very happy with my result and I will definitely recommend more of my friends to come here.